Learn about Different Ukulele Sizes: Soprano, Concert, Tenor, and Baritone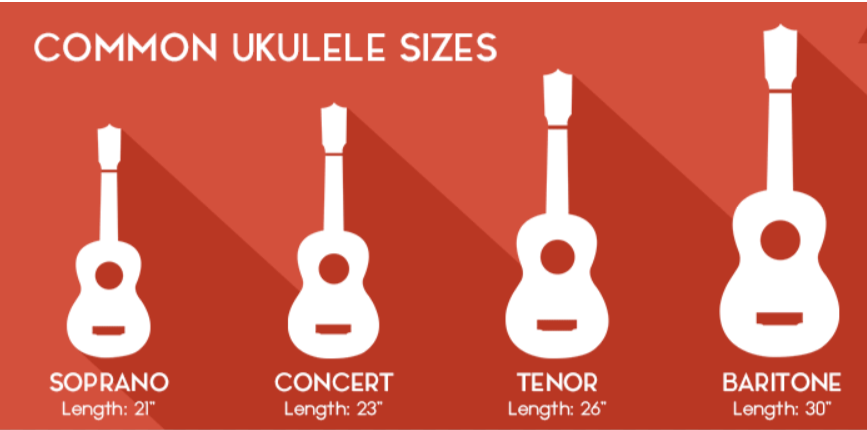 When most people think of an ukulele, they picture a soprano ukulele. This is the petite uke that plinks cheerful, gentle notes that conjure up happy thoughts of Hawaiian luaus and tropical breezes. Considered the traditional size, the small soprano ukulele is just one of 4 different sizes of this fun instrument.
How to Choose the Right Ukulele
First think about your needs and desires. You want to pick ukulele size for beginner or experienced player? Do you plan to practice by yourself, play with friends, or perform for others?  Do you want to hear the cheerful, sweet, and bright notes of a soprano uke or lower, mellower tones of a larger ukulele?
Choose among the four most popular models in order of size: soprano, concert, tenor, and baritone. As each type of ukulele increases in size, its body and neck are larger and allow for more finger-maneuvering room, a deeper pitch, greater resonance, and higher volume. 
How to Measure a Ukulele's Size
For a side-by-side comparison of the different sizes, check out the chart below. "Full length" is the measurement from the bottom of uke's body to the top of its headstock. "Scale length" is the measurement from the nut (the ridge between the headstock and fretboard on which the fours strings rest) to the saddle (the raised ridge on the body's bridge which holds the other end of the strings). Note: all lengths below are approximate and vary slightly according to manufacturer.
Ukulele Size Chart:
| | | | | |
| --- | --- | --- | --- | --- |
| Ukulele Size | Soprano | Concert | Tenor | Baritone |
| Full Length | 21" / 53 cm | 23" / 58 cm | 26" / 66 cm | 30" / 76.2 cm |
| Scale Length | 13" / 33cm | 15"/ 38 cm | 17"/ 43 cm | 19" / 48.2 cm |
| Number of Frets | 12 to 25 | 15 to 20 | 15 to 20 | 19 or more |
The Most Popular Size: 21" Soprano Ukulele
When my daughter started learning to play the ukulele at age 12, we automatically chose this cute size. We did not know anything different! Luckily, the soprano ukulele has more advantages than just being the right size for players with small hands. Often regarded as the standard ukulele, the soprano is perfect for beginners as well as experienced musicians. Light and highly portable, it produces a soft sound and bright happy tone. The soprano uke has less projection and resonance than larger-sized models. Its neck and fretboard are shortest of the four models; therefore, the frets are "tighter" or more closely spaced, making the soprano ukulele most suited for small fingers.
A variation on the soprano ukulele is the pineapple uke. Similar in size, the body of the pineapple ukulele has no waist but is rounder and shaped like an actual pineapple. Therefore, it has a wider soundboard with more surface area for resonance, thus creating a deeper, warmer tone and fuller sound.
Recommendation: Ukutune UKS1 21" Soprano Sapele Ukulele
Most popular size for beginner players.
Soprano sound and melodious tone.
Lovely body constructed of classical sapele wood.
Visually appealing natural color.
BUY NOW
The "Golden Mean" Size: 23" Concert Ukulele 
While selecting an ukulele model for myself, I was intimidated by the name "concert." After all, I was just planning to study the instrument for pleasure, not for performances! When I tried a ukulele in concert size, though, I surprised myself by preferring it over the soprano model. Slightly larger than a soprano uke, the concert ukulele has a longer neck, allowing for more space between frets for comfortable fingering. In fact, the concert ukulele is well-suited for adults and those with medium-sized hands. It produces a warmer tone and louder projection compared to a soprano uke. This greater volume makes the concert uke favored by musicians for playing in public performances. The moral of the story is: don't let the label "concert" scare you away from the concert uku, which is a "golden mean" between the smaller soprano model and bigger tenor ukulele.
Recommendation: Ukutune 23" Concert Mahogany Ukulele
Sweet sound and warm tone.
Strong acoustic projection.
Light mahogany body with lovely burnished finish.
Long neck with walnut fretboard and 18 frets.
BUY NOW
The Fuller Sound Size: 26" Tenor Ukulele
The next larger model is the tenor ukulele. Its body and neck are longer and broader, providing greater length for fingerpicking and wider spacing between frets for fingering. Popular with professional musicians, tenor ukes are great for players of any skill level.  Compared to the concert model, the tenor ukulele produces a "bass-y" tone and louder volume. Also, it projects a deeper, warmer sound than the traditional bright notes expected from soprano ukuleles.
The four strings of the ukulele sizes listed above—soprano, concert, and tenor—are tuned according to a standard tuning system: G-C-E-A. Since these three types of ukes share a standard tuning system, they can all be played in the same manner. In other words, if you first learn to play the ukulele on a soprano model, then you will be able to play on a concert or tenor model, no problem! For versatility in sound and feel (not to mention when you want trade and try out your friends' ukes), you can easily switch among these three sizes.
Recommendation: Ukutune UKA1 26" Tenor Ash Wood Ukulele
Rich sound and warm tone.
Strong acoustic projection.
Lovely body constructed of ash wood.
Long neck with plenty of space between frets.
BUY NOW
The Most Bass-Sounding Size: 30" Baritone Ukulele
Although this largest ukulele model is a comfortable fit for players with large hands and thick fingers, it works for musicians of all sizes. Case in point: when my ukulele teacher was a kid, he owned and loved playing a baritone ukulele! Longer and wider than the tenor uke, the baritone ukulele offers ample spacing between frets for fingering and plenty of length along the strings for fingerpicking. Of all four models, the baritone ukulele projects the deepest, fullest sounds somewhat similar to an acoustic guitar. Keep in mind, though, that this size is heaviest and least easily portable.
Also, the baritone ukulele's strings are not tuned according to the standard tuning of the smaller models but like the four highest strings on a guitar: D-G-B-E. Therefore, if you already play the guitar, then you may have an easy time transitioning to the baritone ukulele. If you are used to the soprano, concert, and/or tenor ukulele, however, then you will need adjust to differently-tuned strings in order to play chords on a baritone ukulele. Note: most ukulele music is written for the soprano, concert, and tenor ukuleles; if you choose a baritone uke, be sure to find music written specifically for this size.
Which Ukulele Size is Best?
So when deciding which ukulele size to purchase, consider your needs (like what fits your height, arm length, and body length, hand length, and finger sizes) and desires (like portability, preferred tone and sound quality). If possible, try different ukulele sizes to discover which size you find most comfortable to hold and play.
Happy strumming!
Recommendation: Ukutune Ukulele Collections
All sizes ukulele for beginner and experienced players.
Full taste of tone.
Lovely body constructed of classical wood.
Visually appealing color.
BUY NOW