The Ultimate Guide of Strumming a Ukulele the Correct Way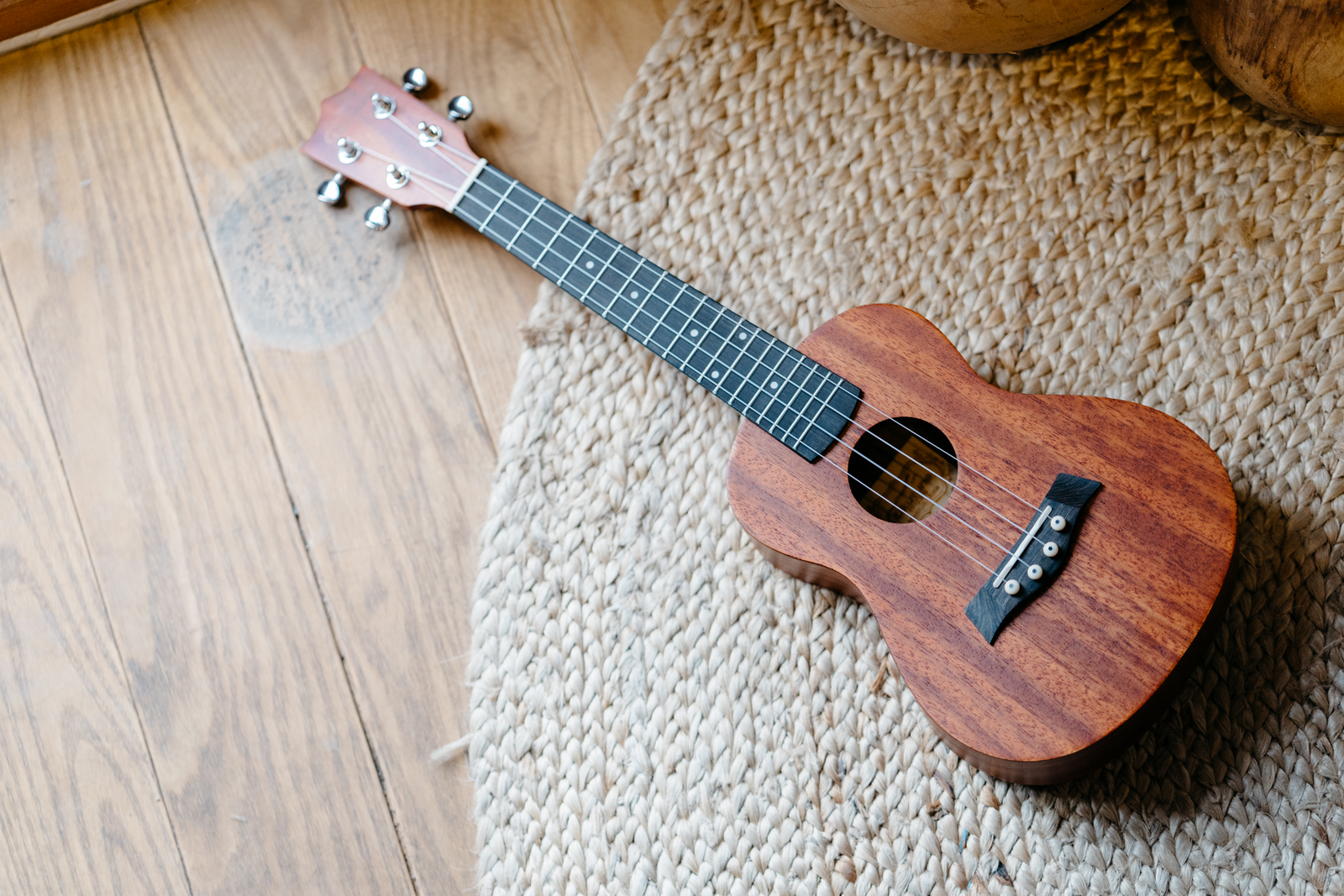 Learning to strum the ukulele requires learning different techniques and patterns in order to ensure the whole process doesn't become cumbersome. It's also important to master the basics before moving onto advanced strumming. Also, knowing the ukulele's tuning abilities is helpful.

In addition to tuning abilities, knowing the parts of your ukulele is important. It's equally important to learn how to read chord diagrams and making quick changes between chord shapes. Most importantly, strumming is a very important skill to achieve in order to create true ukulele sounds. Here is helpful guide of information created and written by famous ukulele player Alistair Wood of Ukulele Hunt.

Know The Basics Before You Strum a Ukulele
The Basics
Learning how to strum can be done through several approaches; according to Alistair, however, the following way can easily be used by beginners. Start with a loose fist, the basic hand position. Your right-hand index finger should be positioned with the nail facing down. Hit the strings with your nail when strumming down; use your fleshy fingertip to hit the strings when strumming up. Maximize the use of your wrist and not the whole hand in order to decrease chances of fatigue within a short time.

When I began learning how to play the ukulele, I approached it in a different way though. I would put my index finger and thumb together and then would strum the strings up and down with the nails of my fingers. I found it easier this way due to my guitar background.

Strumming the correct spot of the strings is important. Strumming at points closer to the neck and bridge produces a dull sound. Strumming the area where the neck and body meet produces a perfect ukulele sound. Practice strumming in different ways and you can progress to more advanced strumming after you master the basics.
Strumming Notation
Finding strumming patterns can be difficult because of copyright law restrictions. In some cases, however, you will find the patterns noted as text. One also isn't allowed to post how to play different songs. Nonetheless, below you will find strumming notations from AIistair.
d: indicates a down strum
u:

indicates an

up strum
—:

indicates a 

missed/ pause strum, which means moving your hand to either side without hitting the string. This notation is used to give indications for strum timing.
х: indicate a "chunk" or "chnk." Strum down while following through so that the underside of your hand lands on the strings, resulting in a

"chunk" or "chnk" 

sound.
(d) or (u): indicates muted down/up strums. It is done normally with your fingers fretting and resting on the strings to prevent them from ringing. You can move your fingers in both directions to produce sounds similar to "chnk" sounds.
d or u in bold:

indicates 

emphasized strums.
Strumming a Ukulele the Correct Way
Below are some quick tidbits to help you strum the correctly. 
Positioning the strumming hand
Your strumming hand should be folded into a loose fist.
Be sure you hold it at your chest, front and center.
Point to the right or left side of your chest depending on which hand you are using.
Have your thumb steadying the strumming finger for extra support as you strum. 
Where to Strum
Strumming too close to the bridge of the ukulele produces tiny sounds; around that area the yield of sound volume is very small. The point where the neck meets the body (sweet spot) produces good soprano and concert uke sounds. The best spot on the tenor ukulele is a bit closer to the bridge than on the soprano uke.
Strumming Technique
Avoid using your whole arm, which leads to quick and easy fatigue. Instead, use only your wrist. When strumming up, use the fleshy part of your fingertip and when strumming down, hit the strings with your fingernail.
Shuffle/Swing Strums
Popular uke music forums use jazz, blues, and Hawaiian swing time tunes. The down strum time lasts twice as long as the up strum time; the net result is a more interesting up-down strum sound compared to the sound produced the other way around.
Chunking
Producing "chnk/chunk" sounds while strumming occurs when you strum down with the underside of your arm hitting the strings. This action produces a percussive sound. You can make strumming interesting by producing some few 'chnks.'
Dead Strums
This is an alternative way of creating percussive clicks during strumming. Dead strums are created by laying your fingers on or across the strings to stop them from ringing.
Simple Strumming Pattern
This is possible with up-down strums while avoiding some strings. You can avoid some strings while strumming up and some others while strumming down. This can be done by following particular patterns.
Common Ukulele Strumming Patterns
Alistair Wood worked out and recorded some common strumming patterns. I am very grateful that he allowed them to be used here. People often ask for specific details about strumming patterns. However, there often is no real or exact answer.
Strumming is not similar to chord progressions where there are wrong and right chords. Different strumming patterns can be used and work perfectly. It is important to learn and use your own strumming patterns. Below are some common 13 strumming patterns to learn. More unique patterns can also be created after mastering these common patterns.
4/4 Strumming Pattern
This is a common signature for most strumming patterns. If you can count one to four along with the song and find that it fits perfectly, then the following different 13 strumming patterns can be used.
Pattern 1: d —d u — u d —
This simple pattern is very common in most ukulele songs. It misses the third down strum and has a slight syncopated feel. The syncopation makes an interesting sound and can be used in a song like  "Hey Ya!" by Outkast. 
Pattern 2: d —d u —u d u
This pattern is similar to the first pattern but has an additional up strum at the end. It can be used in different songs including "Remember" by Misty Miller and "High Hopes" by Paolo Nutini.
Pattern 3: d – d — d u d u
It can be used in songs like "Fiesta" by The Pogues and "This Too Shall Pass" by OK Go.
Pattern 4: d — d u d u d u
This fairly straightforward pattern is useful in punky music. It can be used in different tunes like The Beach Boys' "Wouldn't Be Nice" and songs played by the Ukulele Orchestra of Great Britain (UOGB) and many others.
The Half Bar Pattern
Patterns 5 and 6 can be used in songs where the chords change regularly during strumming. The regular change occurs twice in a single bar.
Pattern 5: d — d u
It can be used in songs like the "Sesame Street" theme and "I Will Follow You Into The Dark."
Pattern 6: d u x u
It can be used in songs like "HelloGoodbye" by Betrayed by Bones. 
The Two Bar Pattern
When the changes in chords occur at a much slower rate, the 4/4 pattern can be doubled. It can also be made more interesting.
Pattern 7: d — d u — u d u OR u d u —u d —
It is also referred to as the Sophie Madeleine Strum. It can be used in songs like "The Knitting Song," "Love Cake," "Play Guitar," and "February Snow." 
Emphasis
Pattern 8: d u d U d u d U
It can be used in songs like "Florence and the Machine" and Sophie Madeleine's "Take Your Love with Me".
Pattern 9: d u x u d u x u
It can be used in songs by Madilyn Bailey (like "Your Biggest Fan") and Noah and the Whale.
Reggae Strums
Accenting of the beats is common with reggae strums. These strums are different from the others where you play a strong beat on the count of one. They can be used in patterns 10 and 11.
Pattern 10: — d — d — d —
The beats are accented between the counts and can be used in songs like "Colours" by April Smith amd the Great Picture Show.
Pattern 11: —— d u —— d —
The accent for this one is between the second and fourth beats.
¾ Time
Try to count in threes if one to four does not fit with the song; try pattern 12 and 13.
Pattern 12: d — d u d —
It can be used in songs like John Denver's "Christmas for Cowboys" and Amanda Palmer's "In My Mind."
Pattern 13: d — d u d u
It can be used in the song "Blue Smoke" by the Wellington International Ukulele Orchestra (WIUO).
In conclusion, learning to play the ukulele the right way will require studying different techniques like correct strumming positioning, hand positioning and more. You will also need to learn different common strumming patterns before advancing to produce your own.
Recommendation: Ukutune UKM2 23" Concert Mahogany Ukulele
Sweet sound and warm tone.
Strong acoustic projection.
Light mahogany body with lovely burnished finish.
Long neck with walnut fretboard and 18 frets.
BUY NOW