How to Properly Hold an Ukulele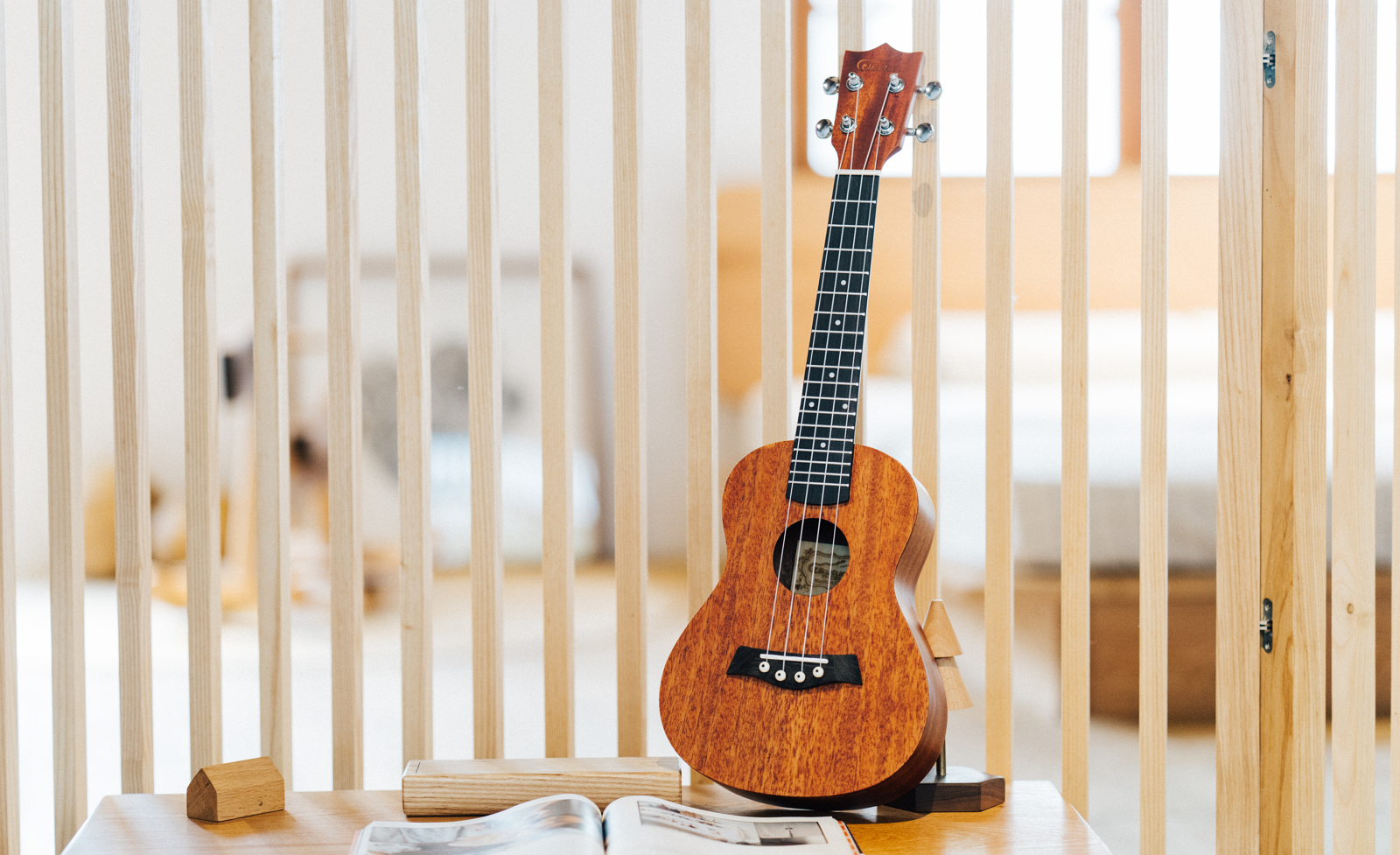 For all those music lovers out there, the ukulele is not a foreign instrument, right? You probably are familiar with this instrument that resembles a guitar in many ways but with some differences. Most importantly, you must understand how to hold the ukulele because how you hold it affects the sounds it produces. First, are you…
Left or Right-Handed?
It has nothing to do with if you are right-handed or left-handed in everyday life. I have seen many right-handed people strumming the ukulele with their left hand and vice versa. Which hand you want to use for strumming purely depends on your comfort level. What matters is if you are comfortable playing the instrument.
If you are confused where to start, however, I recommend strumming with your right hand as it will be easier for you to learn that way. Ninety percent of the world is right-handed, so most instruments are made for right-handed people.

If you want to play the instrument backwards, you can choose between these two options:
Playing the ukulele upside down, which means you will start from the string which is closest to your face OR
Taking the strings off and restringing them by placing them in the reverse order; for example, put the G string towards your face. This will create a mirror image of the right-handed instrument. 

It is up to you which method you choose. If you pick the first option, however, you'll have the liberty of choosing almost any type of ukulele. This is, in fact, one of the main reasons why you should learn the upside-down technique. Also, there must be some reason for the structure and strings of the ukulele the way it is. This will also give you low notes when you are strumming on the high side of the fretboard.
How To Hold The Ukulele Properly
There is no hard-and-fast rule when it comes to holding the ukulele. All you need to look at is your position (while sitting down) and where you hold the instrument. Make sure that you feel comfortable before you start playing the ukulele.
The ideal way of holding the instrument is placing it firmly on your chest so that your right or left hand (whichever suits you better) rests on the top part of the lower edge of your ukulele.
You might have seen some musicians holding it horizontally. Yes, this position is equally comfortable and you may try to tilt the ukulele upward so that it's easy for you to reach chords. If you're straining your arm while trying to reach chords, however, you can always adjust your ukulele's position. Make sure that your elbow and ukulele are at 90-degree angle to each other. Keep in mind, however, that this position is for when you start. Once you begin playing, you can adjust your position according to your comfort level. Don't let the ukulele slip away from your hand in an effort to hold the 90-degree angle. Keep your grip tight over the instrument and also don't bend the neck of your instrument, which may affect the sound you want to make. Check to see whether or not you are applying the correct amount of pressure. Simply let go of the ukulele's neck and if it stays in position, you are doing great.
How to Hold an Ukulele in a Nutshell
Do the following:
Relax while holding your ukulele. 

Place your thumb right behind the ukulele's neck. 

Make sure that you are holding your instrument upright against your body and chest. 

Try to keep your finger in the same direction as the fret, unless you are trying to play a chord which you can play only by turning your wrist.
Do NOT do the following:
Don't let the instrument lie flat on your lap. This creates a very difficult position for your wrist when you play the ukulele. 

Don't grip the instrument too hard. Instead, try to make it easier for the ukulele and for yourself. 

Don't hold your elbow sticking out. 

Don't keep your elbow inside or right in front of yourself. 

So this is how to hold your ukulele properly. The important thing is that you feel comfortable while playing the instrument and creating mesmerizing tunes. Enjoy yourself!